Planning a deck installation can be fun and exciting, as it provides many benefits to you and your family. As long as they're built by trusted exterior and window installation contractors, your new deck will not only enhance your home's visual appeal but also its property value. Decks are made to suit almost any family lifestyle as well as provide a platform for recreation and entertainment. From outdoor family meals to weekend barbecues with friends and neighbors, you can have your deck built to meet your needs and preferences!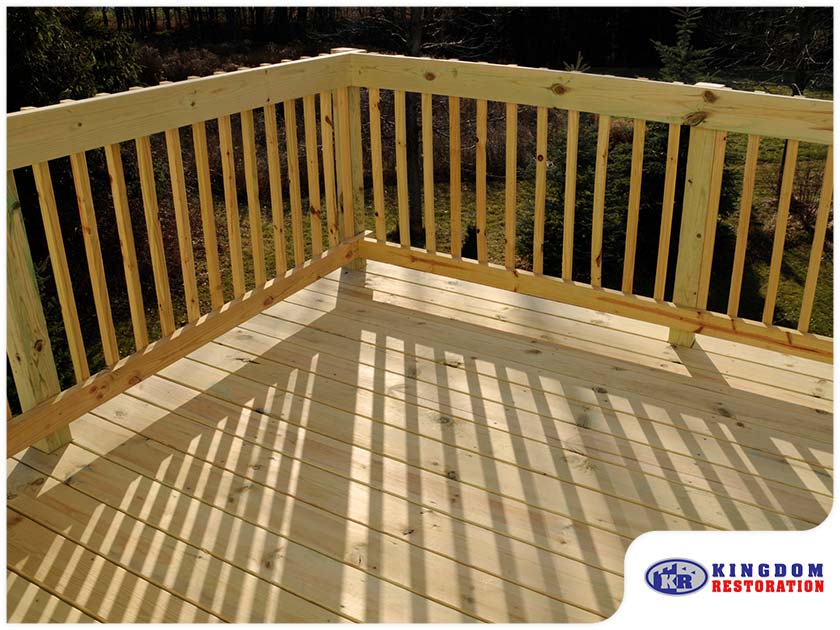 However, planning out your deck design can also be stressful at times. Many factors come into play when you decide to get a deck installation, including who you'll hire for the project, how it can be built and which type of materials to use. Different deck materials will often have benefits and drawbacks to consider, and if you're not sure about certain materials and components, you can always talk to your contractor for their expert opinion.
Choosing Your Deck Materials
When researching materials to use for your deck installation, you can always take your time in exploring every possibility. This helps you make a more informed decision about which material you choose to use for your new deck build. Working with a deck and window installation company such as Kingdom Restoration also helps as they'll narrow down your options and recommend which materials are most ideal for your home and lifestyle!
Popular Deck Material Options
Out of all the deck materials available in the market, wood is still a top choice for many homeowners across the country. It's a cost-effective material that's durable and reliable if maintained properly. But in recent years, wood decking prices have risen to around 150 percent due to shortages and supply chain issues. This makes composite and other alternative materials more attractive to homeowners, which were originally more expensive because they last longer and require less maintenance. 
If you're still keen on selecting traditional wood for your deck installation, consider these popular materials:
Pressure-Treated Wood
This is arguably one of the least expensive decking materials available. It's also one of the most popular, as it makes up around 75 percent of all new decks in recent years. Most types of pressure-treated wood are made from Southern yellow pine, which is quick to splinter if not regularly maintained. Professional home and bathroom remodeling contractors know that proper equipment must be used when building decks using this type of wood (i.e. gloves and mask) for safety reasons. Burning this type of wood isn't advisable either because the toxic chemicals in the wood that prevent rot and termites are highly corrosive and can affect your health if the smoke is inhaled. 
Benefits: This material typically lasts for 15 years. It's been chemically treated to withstand rot, mold and insects, and its affordability makes it a popular choice among many homeowners. It's also relatively easy to install and fasten.

Drawbacks: Maintenance is crucial to ensure it lasts as long as its expected lifespan. Otherwise, it tends to crack or warp over time. Make sure that it gets refinished every few years by a trusted deck builder to ensure it stays in good condition.
Tropical Hardwoods
These decking materials are better than pressure-treated wood and are available in more colors and styles. Many home and bathroom remodeling contractors are also aware that they're much denser than normal wood and would require drilling a hole first before hammering with a nail. Choose this type of wood if you're looking for a more premium material for your deck installation!
Benefits: Tropical hardwoods last around 25 years with care and maintenance, which is still much longer than pressure-treated wood. They also feel more grainy and durable and are naturally resistant to rot and termites. You also have different varieties to choose from, such as tigerwood and ipe.

Drawbacks: They're more expensive than pressure-treated wood. Some tropical hardwoods can also be difficult to drill holes in them and normal finishes and stains aren't recommended either. A specially-formulated stain is needed, but if you choose otherwise, you'll need to apply a clear UV-blocking wood preservative every three to four years.
Cedar and Redwood
Both redwood and cedar have similar characteristics and are great in any type of home style. With regular care and maintenance, they should last much longer than tropical hardwood decks. Cedar, in particular, has less natural oil so it's easier to stain. Redwood, on the other hand, is one of the most fire-resistant wood materials in the market.
Benefits: They're lightweight and stiff, making them easier to use as a deck-building material. Certain types of cedar are also hard and wear-resistant. Redwood is also highly sought-after for its rich, red-brown color.

Drawbacks: Both cedar and redwood can last up to 20 years, but proper care and maintenance are required to keep them in good condition. Many are softer than tropical hardwood materials, which means they can get damaged by foot traffic over time. They'll need to be power-washed at least once a year and a coat every few years. They're also almost three times more expensive than pressure-treated wood, mainly because redwood isn't readily available in most states.
Wood Composites
If you're looking for a different alternative for your deck installation, most professionals in home innovations will recommend getting a composite material for your project. They're artificially created from wood fibers and recycled plastics, but are designed to visually capture the look and feel of natural wood. They also come in different colors and grains and are steadily gaining popularity as a deck-building option.
Benefits – They won't warp and splinter, making them incredibly durable. They don't require much maintenance either, and they already have a built-in UV resistance so there's no need for stains, finishes, or paints. 

Drawbacks – Since they're partially made from wood, some composites can show signs of decay over time. Mold and mildew can grow on the damp areas of a composite deck over time, so they must be cleaned regularly. They can also be heavier than most woods and can be more flexible depending on the local temperatures.
When it comes to high-quality ADU construction services and home innovations, Kingdom Restoration is the name to trust. Call us at (941) 483-3800 or fill out our convenient contact form to get in touch with us today!