As if South Florida homeowners don't have anything else to worry about, here comes extensive water damage. Whether the reason for this is natural causes, such as flooding resulting from a storm, or a burst pipe or broken toilet, you should know what to do next–have a trusted local contractor deal with the damage immediately, and handle the necessary cleanup. If overlooked, water damage can create a number of problems for your home, including structural issues, mold growth and rot. But the important question is: how much will you need to spend on water damage restoration? Kingdom Restoration, the trusted home innovations company in the area, answers this here.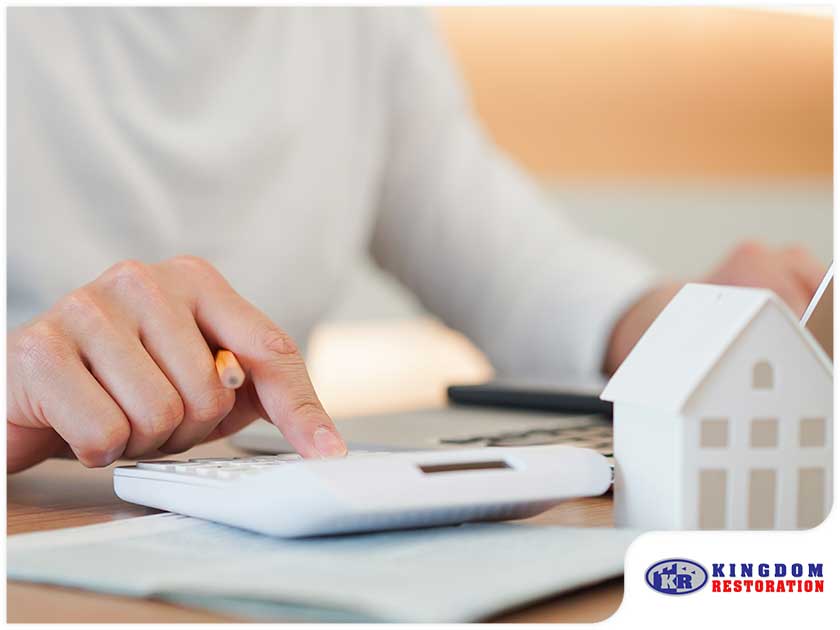 The Typical Cost of Water Damage Restoration
It's understandable that homeowners will be wondering (and worrying) just how deep they'll need to dig into their wallet to take care of water damage to their home. The national average of water damage restoration is about $2,703. But you should know that the exact math may vary due to a number of important factors. To help determine the overall costs, you'll need to work with a professional who will accurately identify the cause of the problem and assess the extent of water damage. Some of the things that need to be considered may include:
The size of the affected area. The larger the coverage, the higher the potential for water damage, which may likely add to your overall expenses.
The type of water you need to deal with. Is it clear, like what would come out of a burst pipe? Or is it murky, as is usually the case with floodwater? If there's a possibility the water to be extracted is contaminated, dealing with its effects may require a specialized solution. Not only that, the affected area may need extra sanitation. This way, you and your family can avoid potential exposure to health and safety hazards.
Mold removal and remediation. How long has the water been sitting inside your home? The longer, the higher the possibility of mold growth. The appearance of mold adds to the work involved with water damage restoration. It's not enough that mold is removed completely from the affected areas–your contractor also has to take measures to ensure it doesn't make a reappearance. Mold removal and remediation will require extra time and effort, and will most likely drive up your costs further.
Minimizing the Cost of Water Damage Restoration
The expenses involved with the project may seem a bit daunting, but there are a couple of ways to help minimize them. You should, for example:
Take immediate action. Don't put off your water damage restoration–promptly call a trusted home innovations company like Kingdom Restoration for the necessary solutions. This way, water won't sit too long in the affected area, helping reduce the possibility of mold growth and further damage. By having the problem dealt with quickly, you can avoid extensive (not to mention expensive) restoration work.
Be proactive about preventive maintenance. Water can enter your home in many different ways. Openings on your roof, entry points in your basement, gaps around doors and windows–these should be patched, caulked or repaired as soon as possible to prevent infiltration. Don't forget about the plumbing! If you've been having issues with the system, call a pro to have it taken care of.
What to Expect From Kingdom Restoration
We wish we could say that water damage restoration is as easy as letting wet clothes dry under the heat of the sun. But like most home renovation projects, such as bathroom remodeling or roof replacement, this particular task should be handled by a trusted professional like Kingdom Restoration. This way, you're sure that your living spaces will be safe from structural issues and health risks associated with water damage. Here's what to expect when you turn to us your water damage restoration needs:
You're always protected. Kingdom Restoration has all the necessary credentials that make us qualified to perform home renovations and restorations in South Florida. We are fully licensed, bonded and insured. Plus, we carry the applicable worker's compensation and liability coverage, meaning you'll remain protected in the off chance an issue pops up during the course of your restoration project.
You'll be working with a client-focused company. We have always aimed for complete client satisfaction, which we make possible not only through superior workmanship, but through a customer-centric approach that ensures your wants and needs into account. Kingdom Restoration, in fact, is committed to exceeding your expectations, not just meeting them. Whether you need water damage restoration or window installation, we have got you covered.
Your project will be completed perfectly right the first time. Kingdom Restoration has over 20 years of experience serving homeowners in South Florida and beyond. We use a proven and streamlined process that covers every aspect of your restoration project, minimizing the potential for costly mistakes and unnecessary delays. We want you to have a positive and enjoyable experience, and this means finishing your project to the highest quality results.
Our Worry-Free Water Damage Restoration Services
Prompt action is crucial when your home has sustained considerable water damage. The good news is that Kingdom Restoration is simply one phone call away. We're not just your window installation expert–you can also depend on us for your water damage restoration. Our reliable and specialized team can extract, clean, and sanitize your home quickly to head off further damage. They'll also guide you through the entire process, from the comprehensive water damage assessment to the actual restoration.
Kingdom Restoration can even work with your insurance provider to make the process run as smoothly as possible, and ensure you get the fair settlement you deserve. As mentioned before, we take into account every possible detail in the projects we undertake. After all, water damage can take form in different ways. For this reason, we offer an extensive range of solutions that help deal with all of them. These include:
Water extraction and damage restoration
Basement flooding cleanup
Toilet overflow water damage cleanup
Drywall water damage restoration, removal and replacement
Mold remediation
Contact Us Today!
Kingdom Restoration offers top-tier bathroom remodeling services, but we also specialize in water damage restoration. With our professional team and exceptional solutions, we'll bring your home back to its pre-loss condition. We proudly serve Venice and all of South Florida. Call us today at (941) 483-3800 or fill out this contact form to schedule your home evaluation.