Homeowners insurance usually helps cover damages in your home due to certain perils. Understanding your policy is useful if ever you will need to file a claim. Before purchasing one, it's always a good idea to read the fine print. Among the most common questions about homeowners insurance is whether it covers fire damage.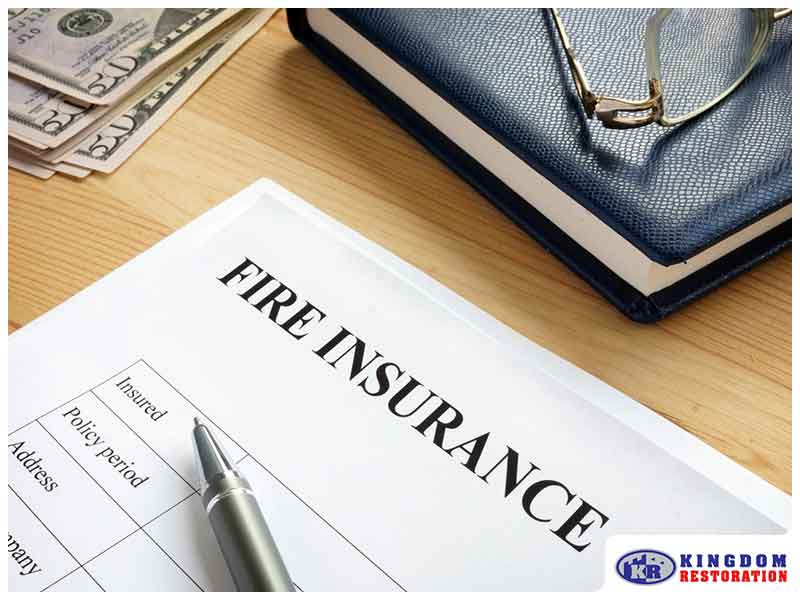 Read on to find out if homeowners insurance policy covers fire damage from a local residential remodeling contractor.
Homeowners Insurance VS Fire Insurance
Most insurance policies include coverage that aids in the repair or replacement of your home and its contents if they are affected by the fire. From personal belongings to unattached structures on your property, your coverage will pay for them up to your policy's limit. It could be from a sudden electrical issue or an incident with a candle.
No family or house is the same, meaning there is no standard formula when it comes to selecting your coverage limits. Your limit refers to the maximum amount your policy will reimburse for the fire restoration. When choosing a coverage limit, make sure to consider the value of your home and belongings. For instance, you may want to increase your limits for personal property if your belongings need more coverage for their replacement in case of a fire.
However, your policy may offer lower coverage limits for items like jewelry. To ensure those items stay protected, consider purchasing additional coverage. Moreover, the cost of restoring your home after a fire may not be the same price as what you paid for your home because construction rates change all the time. Be sure to consider how much it may cost to repair or rebuild your home at current prices.
The liability of the insurance company is limited by the policy and not the extent of damage or loss sustained by the property owner. Some standard homeowners insurance includes fire coverage but the policy may not be extensive enough for some people. You may need to purchase fire insurance separately if your policy excludes coverage of fire damage.
What Does Homeowners Insurance Typically Cover?
Personal Liability
Personal liability is covered in homeowners insurance. It covers medical bills, lost wages and other costs for individuals that you are legally responsible for injuring. For instance, a guest slips or falls and injures themselves in your home, your personal liability insurance will cover their medical bills.
Dwelling 
Dwelling coverage involves covering costs for repairing or restoring your home if it's been damaged by fire, hurricane or other disasters specified in your policy. Anything built into your home is covered up to the limit in your policy, including the roof, walls, deck, cabinetry, plumbing and floors. Make sure to hire a skilled contractor for rebuilding your home if it's been hit by a disaster. At Kingdom Restoration, you can count on us for your fire and water damage restoration needs. Our team can also help with your residential remodeling project.
Other Structures
Your homeowners insurance may also cover the cost of repairing or rebuilding separate structures from your home like a guest house, shed, detached garage, or fence.
Personal Property
No matter where your personal belongings are in the world, your homeowner's insurance will cover them. If you lose your valuables due to theft, your coverage may also pay for the cost of their replacement. It also applies to guests who are staying in your home if their belongings are damaged or stolen. However, your insurance provider may only cover up to a certain amount for costly valuables, such as watches, jewelry, and furs.
Added Living Expenses
If your home has been significantly damaged by a weather event, your policy may cover your additional living expenses while your property is being restored. This coverage may include the cost of rent, gasoline expenses, and your property's rental value if you were renting it out for income.
Additional Coverage
Insurance companies typically offer added protection that can enhance your coverage. It may include water backup protection, service line coverage, and equipment breakdown coverage.
Which Fire Damage Will Your Insurance May Not Cover?
Keep in mind that homeowners insurance may not cover all kinds of fire damage. For instance, if the cause of the fire was intentional, your coverage may not cover the damage repair costs. It also does not usually cover damage caused by an act of war. To verify what is and is not included in your policy, consult your local agent, or review your policy thoroughly.
Tips for Filing Fire Damage Insurance Claims
Work With an Experienced Fire Damage Restoration Company
The nature of property fires makes the fire damage restoration process complicated. You may also deal with smoke and soot aside from damaged valuables. When not addressed, these issues will only get worse. At Kingdom Restoration, we offer both quality fire damage restoration and bathroom remodeling services.
List Down Your Damaged Belongings
One of the first things you should do after a fire is to list things that you've lost. You should also not throw anything away because it will be easier to prove that the items were damaged if your adjuster sees them. Your insurance provider may reject your claim if you throw away these items. Start your list as soon as possible so you can keep track of your losses and not forget about them when filing your fire insurance claim.
File Your Claim as Soon as Possible
Fire restoration experts suggest filing your insurance claim right away. It's because some insurance companies have a deadline on until when you can submit your claim. Calling your insurance agent immediately can also help expedite the process. Your insurer may require you to submit a proof of loss claim, which includes the list of items you lost with their values indicated.
If the fire has affected a lot of homes in your area, you may want to act quickly. When you wait too long, you can end up last on the list. Moreover, your claim should include the date and type of loss, location of damage, any related injuries, the condition of your home, a detailed description of damaged items, necessary repairs and a police report.
Choose Kingdom Restoration for your water and fire damage restoration needs. We also specialize in kitchen and bathroom remodeling. Call us at (941) 483-3800 or fill out our contact form to learn more about our offers and services.